If you have any information about these crimes or any person(s) involved, you are urged to call Crime Stoppers at 745-3333 or submit a Web Tip on this secure website. You do not have to give your name. Your call could earn you up to $1000.00, if the information leads to the arrest or criminal indictment of suspect(s).
AST AK#17054776 - Burglary 1st/Theft 3rd
August 14, 2017
On Monday 8/7/17 at approximately 5:06 AM, the Alaska State Troopers responded to a call of a burglary at a location on E. Schrock Road in Wasilla. Investigation revealed that unknown suspect(s) unlawfully entered a dwelling and stole an Energy Storm Inverter Generator Model 3000i and an Echo chainsaw with a 16" bar.
---
WPD#17-1216 Vehicle Theft
August 08, 2017
On Friday, 07/21/17 at approximately 3:19 PM, the Wasilla Police Department received a report of multiple items stolen from a residence off of Pioneer Drive. Police responded to the area and contacted the property owner. Investigation revealed that someone had recently entered the property and stole a 1995 Scotty motor home bearing Alaska License Plate CYD896, a 1982 blue Ford truck bearing Alaska License Plate GFH774, and two twelve foot Flying Junior sail boats. One of the boats is blue and white in color and does not have a serial number. The other boat is green with serial #1265. Total stolen property is valued at approximately $3,500. Investigation is ongoing.
---
WPD#17-555 Burglary
May 02, 2017
On Saturday, 4-8-17 at approximately 9:44 AM, Wasilla Police responded to a burglary that happened overnight at For My Cell located at 617 S Knik Goose Bay Road #B. The window was broken and multiple items were stolen, including cell phones, tablets, a computer, money, and other items. The loss to the business is over $3,700. This case is currently under investigation.
---
Criminal Mischief/Theft
February 28, 2017
Since 2014 there have been approximately 55 reports of CBU commercial cluster mailboxes damaged or destroyed throughout the Mat-Su Valley. Incidents have included boxes that have been completely destroyed or an attempt to break in as well as mail recovered from different locations. If you have DETAILED information on suspect persons or vehicles involved in these incidents, please submit your tip to Mat-Su Crime Stoppers.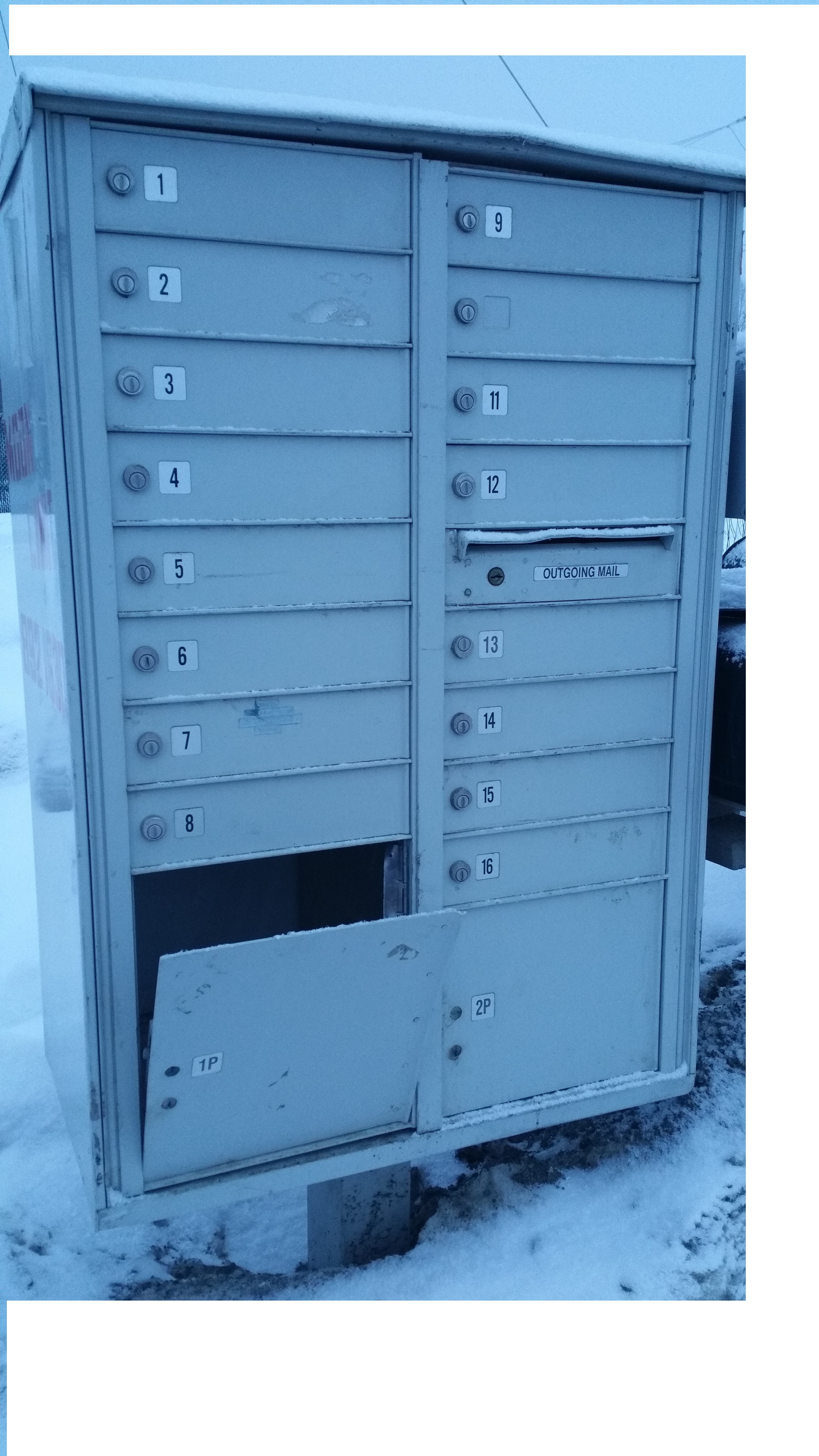 ---
AST AK#17008589 Theft/Criminal Trespass
February 13, 2017
On Friday, 2-6-17, the Alaska State Troopers received a report of a diesel generator stolen from an outdoor storage building at the Chickaloon Tribal Council located at 21117 E. Myers Avenue in Sutton. Investigation revealed the generator was purchased through a federal auction and a sticker with the number "32" as well as an auction lot number was affixed to it. It is suspected the generator was stolen during the week of January 30th. The generator is valued at over $33,000.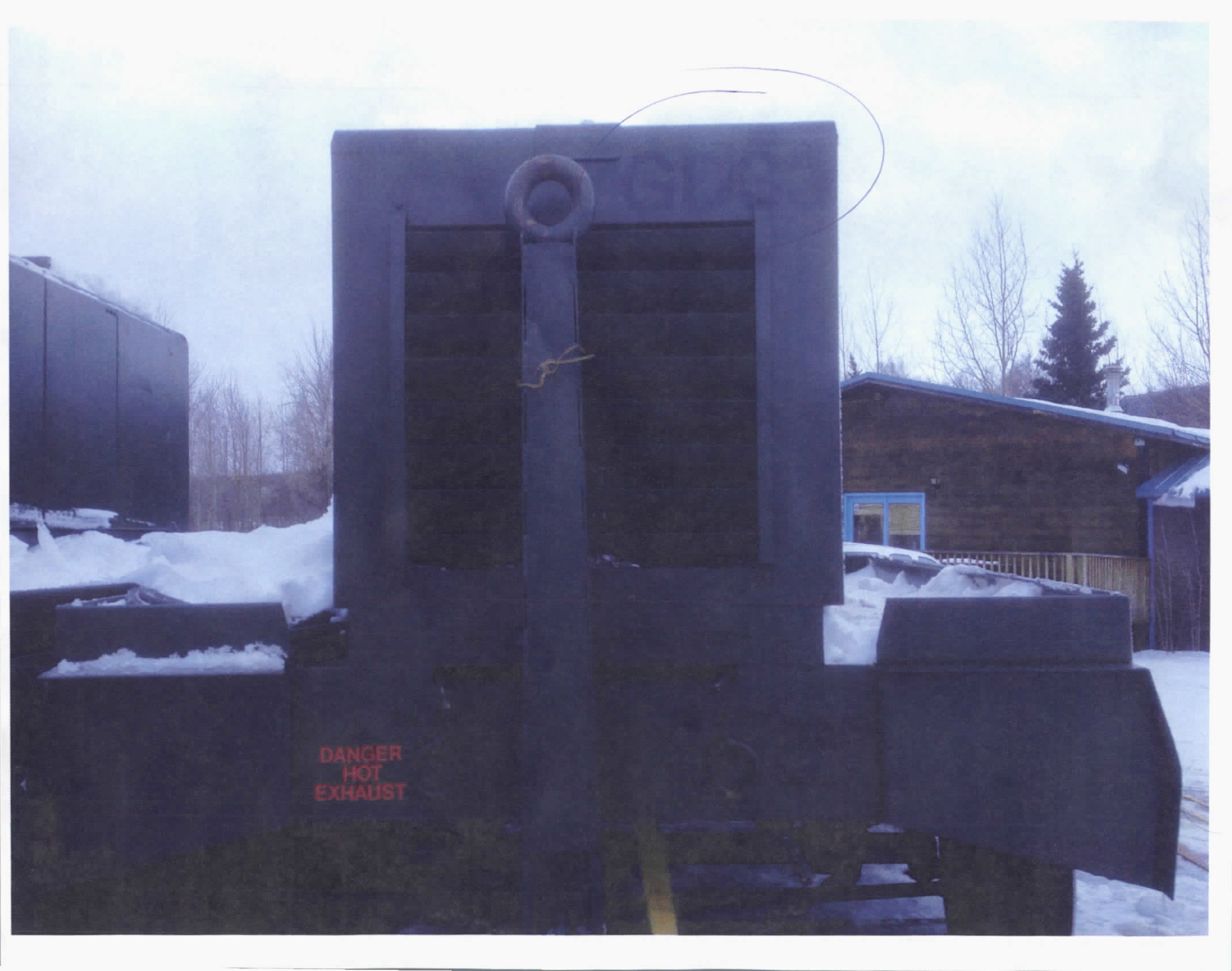 ---
WPD #16-2407 Burglary
January 27, 2017
On Tuesday, 12-27-16, Wasilla Police responded to the Aurora Cemetery located off Wasilla Fishhook Road and Aspen Avenue in reference to a burglary from a storage shed. Stolen were a dozen Stihl saw blades, two grease guns, a number of rubber pipe fittings and gas from lawn equipment. The day and time of the burglary is unknown. Total loss is approximately $250.
---
WPD #16-1951 Theft
November 05, 2016
On Thursday, 10-13-16 at approximately 11:57 am, Wasilla Police responded to a reported theft of a utility trailer from the Wasilla Lake Christian School parking lot located on the Palmer-Wasilla Highway. The white trailer was a 1999 single axle, with enclosed cabin, bearing AK registration 'YYV424' and contained concession items and team sport supplies. The theft has appeared to have taken place the night before. This case remains under investigation.
---
AST #AK16073127 Vehicle Theft
October 09, 2016
On Wednesday, 9/30/16, the Alaska State Troopers responded to a report of a motorcycle stolen sometime after 9/9/16 from a residence located on Hematite Drive in Wasilla. The motorcycle is described a lime green 2007 Triumph with aftermarket gold handle bars, LED tail light and a custom head light. Total value is approximately $6,200.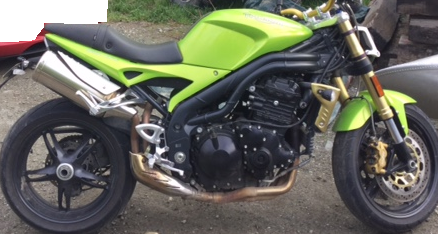 ---
WPD #16-1645 Theft of Loader/Extended Backhoe
September 07, 2016
Similar Picture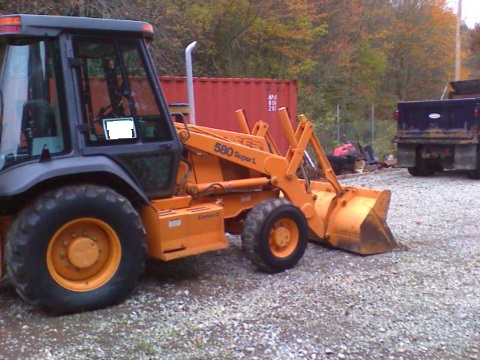 ---
WPD #16-1645 Theft of Loader/Extended Backhoe
September 07, 2016
The Wasilla Police Department is investigating the theft of a 2000 Loader Extended Backhoe, Model 580 Super L bearing S/N JJG0275829. The incident occurred sometime on 8/25/16 between the hours of 5PM and midnight 8/26 in the vicinity of Holiday Drive and Lucas Road in Wasilla. The estimated value is approximately $25,000.
Similar picture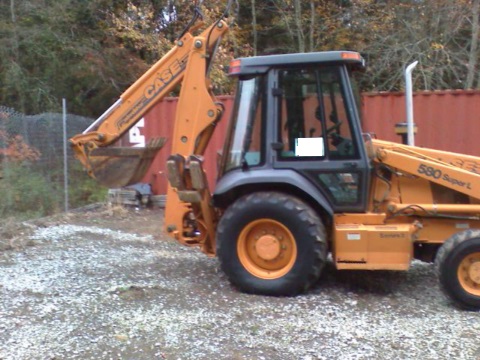 ---
AST #AK16055628 Robbery
August 04, 2016
On Friday, 7/29/16, at approximately 2:39 AM, Alaska State Troopers with Wasilla Police and K-9 Marshall responded to a reported robbery at the Tesoro gas station located on Knik Goose Bay Road at Fairview Loop in Wasilla. Investigation revealed a lone person entered the front door with a baseball bat. The suspect ordered the front clerk to fill a white plastic garbage bag with the cash from the register. The male then fled on foot and was unable to be located. The suspect is described as possibly an adult white male, wearing a black hooded sweat shirt and black mask with a white skull image on it. No injuries were sustained and the investigation continues.
---
AST #AK16053458 Armed Home Invasion/Felony Assault/Attempted Murder
July 21, 2016
On Tuesday 7/21/16 at approximately 1:16 AM, Alaska State Troopers responded to a report of a home invasion on Plumley Road in Palmer. Investigation revealed two people who were unknown to the homeowner entered the residence through a window. When the homeowner confronted the assailant with a firearm, an assailant shot the homeowner in the arm. Both suspects fled the residence on foot. WPD responded with a K9 to assist with tracking the suspects but they were not located. The homeowner was transported to Mat-Su Regional Medical Center for treatment of his injuries. One other person was in the home at the time of the break in but was not injured. Palmer and Anchorage ABI responded. Investigation is ongoing. The names of the homeowners are not being released at this time due to the circumstances surrounding the investigation.
---
PPD #16-1022
March 03, 2016
******SOLVED******
Palmer Police investigated several reports of vandalism throughout the City of Palmer between the late evening hours of Sunday, 2-28-16 and early morning hours of Monday, 2-29. Investigation revealed unknown persons spray painted several residences, businesses, vehicles, sidewalks, street signs, and parking lots with graffiti. Estimated cost to repair the vandalized property is approximately $4,000.00. Investigation is ongoing.
---
AST #AK15098479 Hit & Run
December 13, 2015
On Thursday, 12-10-15 at approximately 4:49 AM Alaska State Troopers responded to the area of Schrock Road and Burlwood Avenue in Wasilla for a report of a male laying on the ground with injuries who appeared to have been hit by a car. Investigation revealed the victim was walking on the side of Schrock Road and was struck by an unknown passing vehicle. The victim sustained serious, but non-life threatening injuries and was taken to Mat-Su Regional Medical Center for treatment of his injuries.
---
AST #AK15022466 Burglary in the 2nd, Criminal Mischief in the 3rd, Theft in the 3rd
April 11, 2015
On Monday, 3-30-15 at approximately 4:11 AM, a 911 call was received by the Alaska State Troopers stating the Hill Top Tesoro in Sutton had been burglarized. Troopers arrived and an investigation revealed the Hill Top Tesoro was broken into between 1:40 AM and 2:00 AM. Two security windows were broken, a cigarette machine was heavily damaged, and several hundred dollars' worth of tobacco products, and an undetermined amount of cash was taken from a donation bucket. The donation bucket was to assist a family in a recent fire that lost their entire home. The suspect is described as a white or Native male or female, approximately 5'7" to 5'10" tall and 200 to 220 lbs. Investigation continues.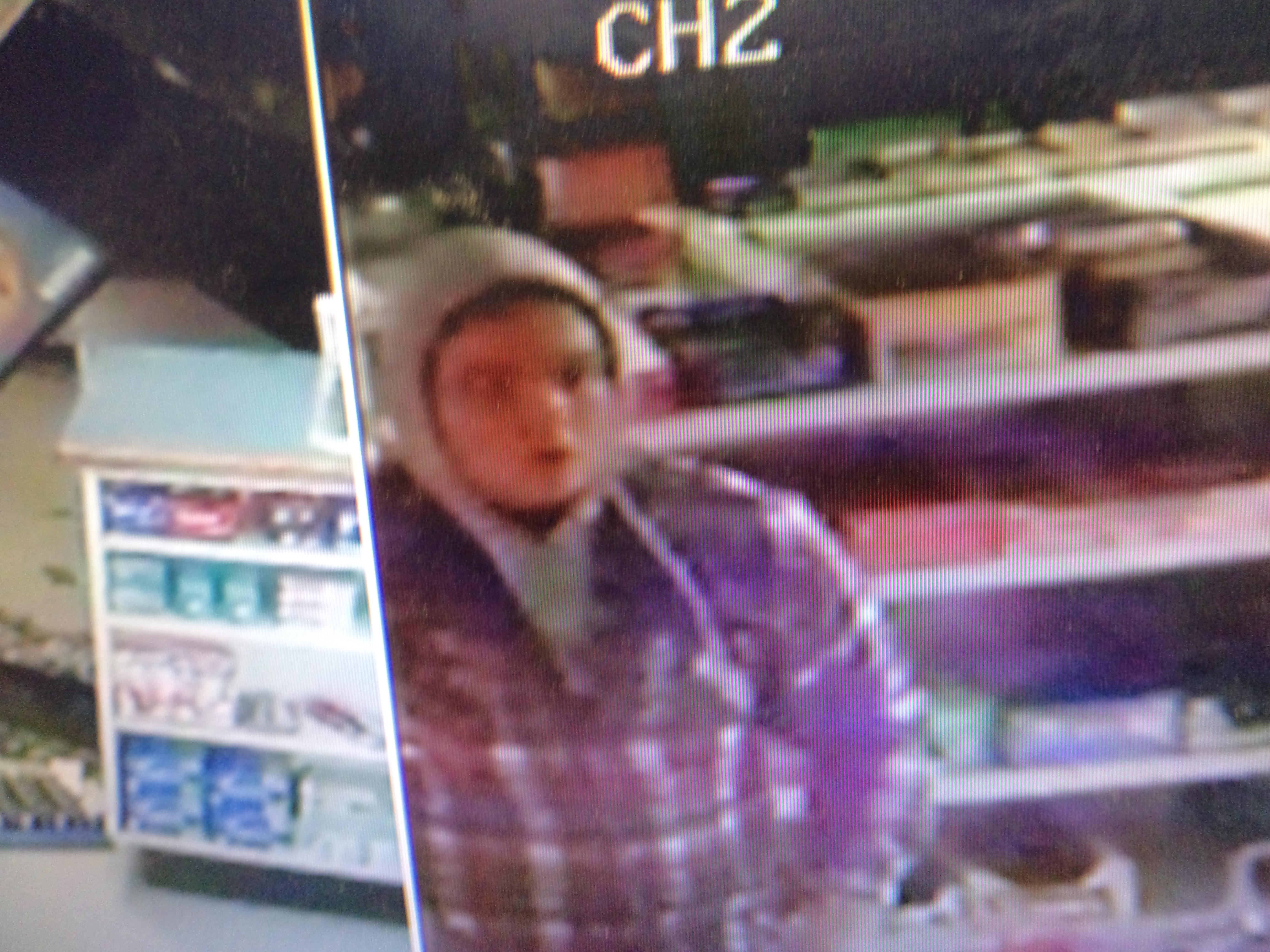 ---
AST #AK15017489 Burglary 1st, Theft 2nd, Criminal Trespass 1st
March 19, 2015
On Thursday, 3-11-15 at approximately 12:33 PM, Alaska State Troopers responded to a report of a burglary after the fact at a residence located on S. Morgan (in the area Sylvan Lane and Hollywood Road) in Wasilla. Investigation revealed someone had entered the residence and stole a Sentry safe containing personal documents and a large sum of cash. Approximately thirty firearms were taken from the residence. Total value of the items is estimated over $50,000.00.
---
AST #AK15010014 Armed Robbery
February 11, 2015
On 2-9-15 at approximately 7:40 PM Alaska State Troopers responded to the Geneva Woods Pharmacy on Seward Meridian Parkway in Wasilla for the report of an armed robbery. Investigation determined that an unknown male forced entry through the back door of the pharmacy while the lone pharmacist was preparing to close the pharmacy for the evening. The suspect was armed with a firearm and forced the pharmacist to fill up a large tote with all of the controlled prescription medication. The pharmacist was unharmed during the robbery. Investigation is ongoing.
---
WPD #15-86 Theft
January 28, 2015
On 1-8-15 at 12:03 PM, Wasilla Police responded to Alaska Mini Storage located at 190 E. Paulson Avenue for a report of a theft from one of the units. At least six firearms and between $1500 and $2000 worth of other items were taken. This case is currently under investigation.
.38 caliber FIE black Revolver
.45 caliber HiPoint JHP Black handgun
.40 caliber Smith and Wesson SW40VE handgun
Colt 911-A 22/45 Made in 1937 RAF Military Restead from WW2 (Priceless)
.38 revolver British made Browning from WW2 (Priceless)
12 gauge Shotgun

Some other items are: 47" Vizio flat screen TV, computer/monitor, humidifier/ 2 boxes of filters, BS2-BS3 Black Blue Ray, Blue Ray DVRs (2) and stereo, ladder ($500), A Queen size bed and headboard, and a variety of clothing and miscellaneous items.
---
WPD #14-1805 Criminal Mischief
October 07, 2014
On Monday 9-22-14 the City of Wasilla Public Works Department reported damage at the Wasilla Airport. Workers reported thirty-two (32) lights along the taxi and runway had been broken. The damage occurred sometime on Friday, September 19th. Damage was estimated at $6,400.
---
WPD #14-1150 & #14-1151 Burglary – Copper Wire
August 14, 2014
On Saturday 6-27-14, at approximately 7:20 AM, Wasilla Police Department received a report of 1,000 pounds of copper wire stolen from a trailer on E. Spruce Drive in Wasilla. Approximate value is between $1,200 and $1,800.
In a separate incident on 6-27 Wasilla Police Department received a report of a burglary at approximately 1:50 PM. Investigation revealed that on June 25th someone stole over $2,300 worth of copper from an unsecured building where a church was under construction on the Palmer-Wasilla Highway near Roberts Street.

---