If you have any information about these crimes or any person(s) involved, you are urged to call Crime Stoppers at 745-3333 or submit a Web Tip on this secure website. You do not have to give your name. Your call could earn you up to $1000.00, if the information leads to the arrest or criminal indictment of suspect(s).
AST #AK17068511 Vehicle Theft - ATV
October 03, 2017
On Monday, 9/25/17 at approximately 10:00 PM, the Alaska State Troopers received a report of a vehicle theft involving a 2008 500cc Arctic Cat ATV Serial #4UF08ATV18T212625. Investigation revealed that on 9/25 between the hours of 4:30 AM and 5:30 PM the ATV was stolen from a residence located on S. Lewis Loop in the area of Knik Goose Bay Road in Wasilla.

The ATV did not have the keys in the ignition and is described as camouflage in color, with a grill guard, a Warn winch and a gun boot on the passenger side. Total value is $6,000.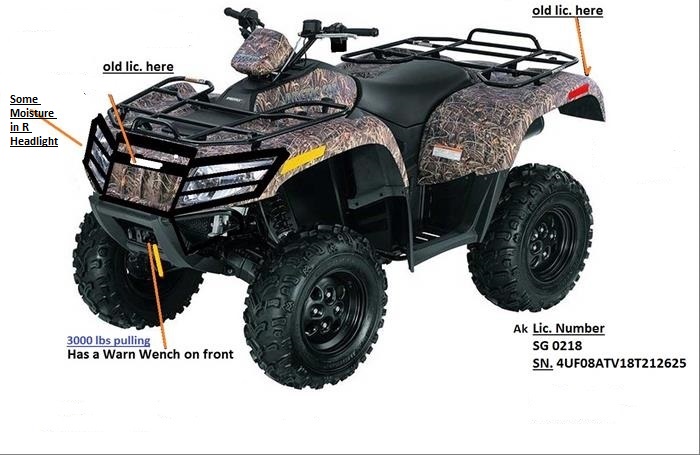 ---
AST AK#17054776 - Burglary 1st/Theft 3rd
August 14, 2017
On Monday 8/7/17 at approximately 5:06 AM, the Alaska State Troopers responded to a call of a burglary at a location on E. Schrock Road in Wasilla. Investigation revealed that unknown suspect(s) unlawfully entered a dwelling and stole an Energy Storm Inverter Generator Model 3000i and an Echo chainsaw with a 16" bar.
---
WPD#17-1216 Vehicle Theft
August 08, 2017
On Friday, 07/21/17 at approximately 3:19 PM, the Wasilla Police Department received a report of multiple items stolen from a residence off of Pioneer Drive. Police responded to the area and contacted the property owner. Investigation revealed that someone had recently entered the property and stole a 1995 Scotty motor home bearing Alaska License Plate CYD896, a 1982 blue Ford truck bearing Alaska License Plate GFH774, and two twelve foot Flying Junior sail boats. One of the boats is blue and white in color and does not have a serial number. The other boat is green with serial #1265. Total stolen property is valued at approximately $3,500. Investigation is ongoing.
---
AST #AK17043484 Theft of Excavator
July 01, 2017
***RECOVERED 7/26/17***
On Thursday, 6/29/17, the Alaska State Troopers responded to a report of a mini excavator stolen from the side of the road across from Knik Elementary School near Hollywood and Vine in Wasilla. The excavator was stolen at approximately 4:30 am on 6/29/17 and is described as a Kubota Model KX40 with a 9 digit number and sturgeon electric sticker on the side of it. Total value is approximately $70,000.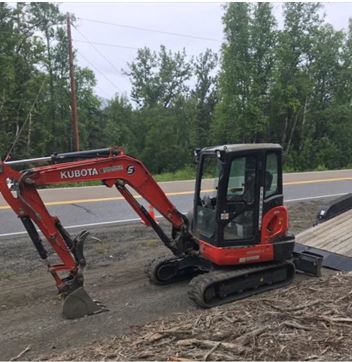 ---
WPD#17-555 Burglary
May 02, 2017
On Saturday, 4-8-17 at approximately 9:44 AM, Wasilla Police responded to a burglary that happened overnight at For My Cell located at 617 S Knik Goose Bay Road #B. The window was broken and multiple items were stolen, including cell phones, tablets, a computer, money, and other items. The loss to the business is over $3,700. This case is currently under investigation.
---
AK Railroad Police #17-A-02-128 Vandalism Alaska Railroad
April 11, 2017
On Sunday, 4-9-17 the Alaska Railroad reported that at approximately 7:10 pm a southbound passenger train carrying 33 passengers and several railroad employees was travelling south of Abby Road near Fairview Loop Road in Wasilla. The engineers reported seeing rocks on the tracks which were either smashed or brushed aside. Investigation revealed that several pieces of metal were placed on the track which resulted in one of the wheels on the lead locomotive losing contact with the track and hitting the ground. This incident resulted in approximately $25,000.00 worth of damage.
This is a reminder that it is a crime to be on railroad property without authorization and a crime to tamper with the rail or any train equipment. This incident that could have easily resulted in serious injury or worse, not just to the passengers and crew, but to the adjacent residents in the area of the Ranch Subdivision.
---
Criminal Mischief/Theft
February 28, 2017
Since 2014 there have been approximately 55 reports of CBU commercial cluster mailboxes damaged or destroyed throughout the Mat-Su Valley. Incidents have included boxes that have been completely destroyed or an attempt to break in as well as mail recovered from different locations. If you have DETAILED information on suspect persons or vehicles involved in these incidents, please submit your tip to Mat-Su Crime Stoppers.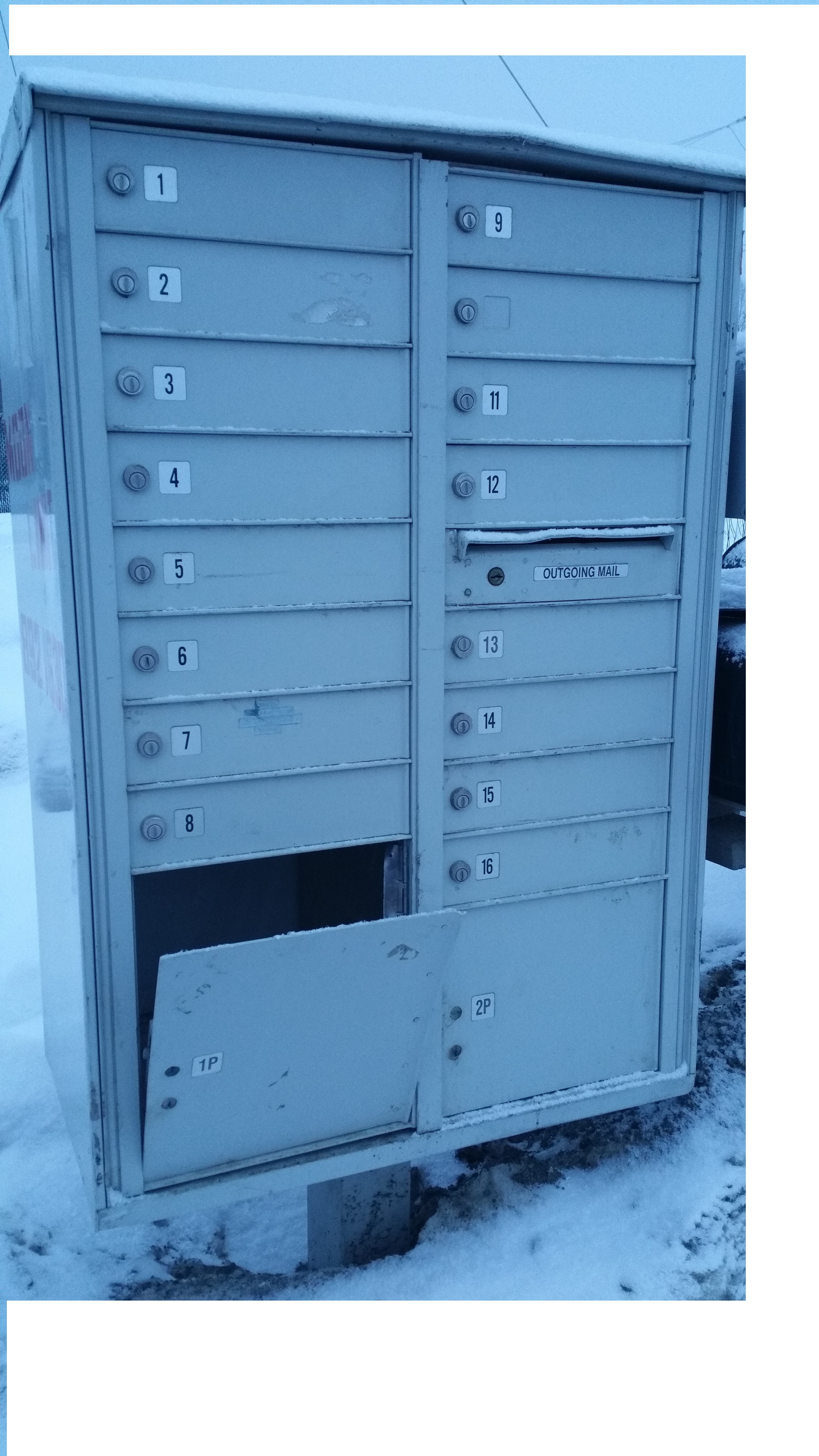 ---
AST AK#17008589 Theft/Criminal Trespass
February 13, 2017
On Friday, 2-6-17, the Alaska State Troopers received a report of a diesel generator stolen from an outdoor storage building at the Chickaloon Tribal Council located at 21117 E. Myers Avenue in Sutton. Investigation revealed the generator was purchased through a federal auction and a sticker with the number "32" as well as an auction lot number was affixed to it. It is suspected the generator was stolen during the week of January 30th. The generator is valued at over $33,000.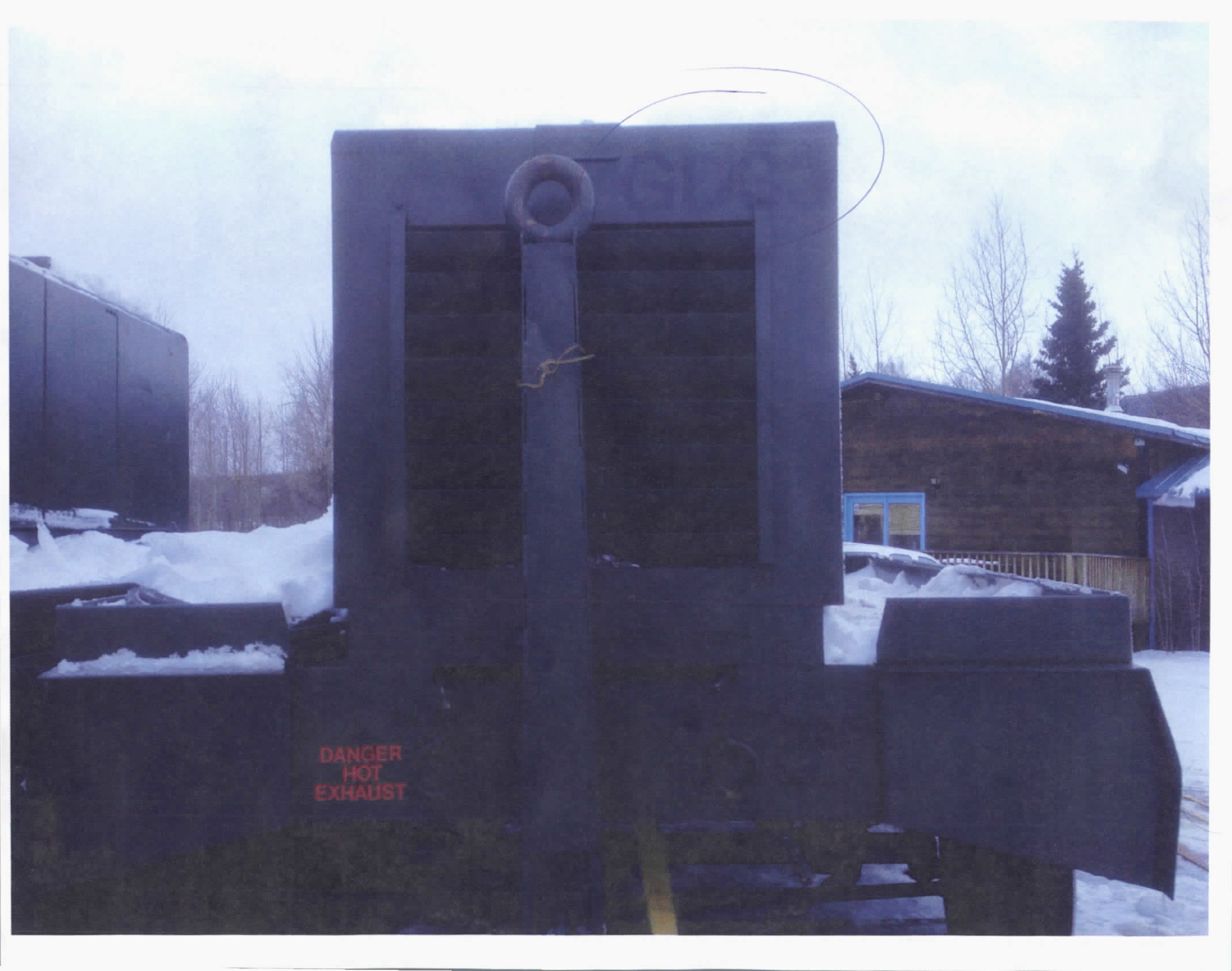 ---
WPD #16-2407 Burglary
January 27, 2017
On Tuesday, 12-27-16, Wasilla Police responded to the Aurora Cemetery located off Wasilla Fishhook Road and Aspen Avenue in reference to a burglary from a storage shed. Stolen were a dozen Stihl saw blades, two grease guns, a number of rubber pipe fittings and gas from lawn equipment. The day and time of the burglary is unknown. Total loss is approximately $250.
---
AST #AK16072757 Burglaries in the Mat-Su Valley
December 19, 2016
***SOLVED***
As the result of an on-going investigation, numerous items were seized under a search warrant, which were later determined to be stolen property from several residential burglaries. The items were suspected to be stolen around early October to mid-November 2016. Victims were contacted and identified, however, AST is still seeking the owner of a gold nugget watch with a rams' head detail. Troopers are encouraging the owner of the watch, or anyone with information regarding the burglaries, to contact Mat-Su Crime Stoppers at 907-745-3333 and reference case number AK16072757.
In addition, Troopers are also needing to contact the owners of a large set of Canadian coins, all with the maple leaf displayed on the outside of the case and a silver Mac Pro laptop.
---
WPD #16-1951 Theft
November 05, 2016
On Thursday, 10-13-16 at approximately 11:57 am, Wasilla Police responded to a reported theft of a utility trailer from the Wasilla Lake Christian School parking lot located on the Palmer-Wasilla Highway. The white trailer was a 1999 single axle, with enclosed cabin, bearing AK registration 'YYV424' and contained concession items and team sport supplies. The theft has appeared to have taken place the night before. This case remains under investigation.
---
AST #AK16073127 Vehicle Theft
October 09, 2016
On Wednesday, 9/30/16, the Alaska State Troopers responded to a report of a motorcycle stolen sometime after 9/9/16 from a residence located on Hematite Drive in Wasilla. The motorcycle is described a lime green 2007 Triumph with aftermarket gold handle bars, LED tail light and a custom head light. Total value is approximately $6,200.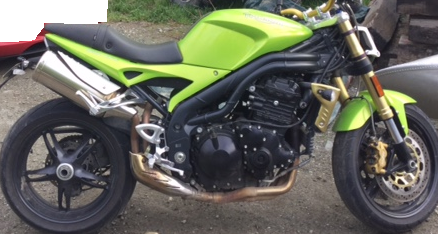 ---
AST #AK16064111 Burglary/Vehicle Theft
September 08, 2016
****SOLVED****
On Monday, 8/29/16 at approximately 11AM, Alaska State Troopers responded to a residence located off Warmwood Way near Trunk Road in Palmer for a reported burglary. Investigation revealed that a shed on the property had been broken into sometime between 8/28 and 8/29.
Two dirt bikes were stolen described as a 2014 KTM 65SX, 2-stroke, orange in color and a 2012 Kawasaki, Model KX85ACF, 2-stroke green and black in color. Total value is $8,500.
---
WPD #16-1645 Theft of Loader/Extended Backhoe
September 07, 2016
Similar Picture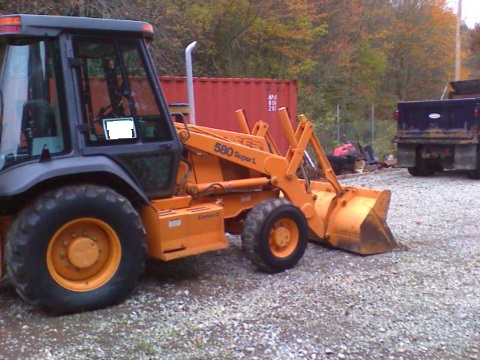 ---
WPD #16-1645 Theft of Loader/Extended Backhoe
September 07, 2016
The Wasilla Police Department is investigating the theft of a 2000 Loader Extended Backhoe, Model 580 Super L bearing S/N JJG0275829. The incident occurred sometime on 8/25/16 between the hours of 5PM and midnight 8/26 in the vicinity of Holiday Drive and Lucas Road in Wasilla. The estimated value is approximately $25,000.
Similar picture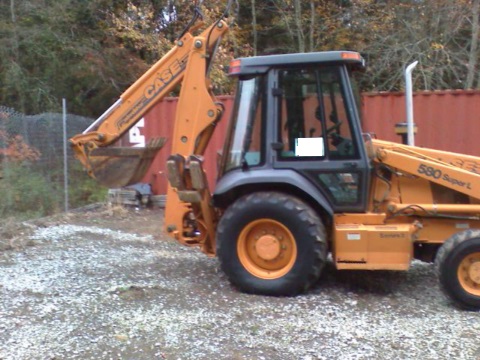 ---
AST #AK16055628 Robbery
August 04, 2016
On Friday, 7/29/16, at approximately 2:39 AM, Alaska State Troopers with Wasilla Police and K-9 Marshall responded to a reported robbery at the Tesoro gas station located on Knik Goose Bay Road at Fairview Loop in Wasilla. Investigation revealed a lone person entered the front door with a baseball bat. The suspect ordered the front clerk to fill a white plastic garbage bag with the cash from the register. The male then fled on foot and was unable to be located. The suspect is described as possibly an adult white male, wearing a black hooded sweat shirt and black mask with a white skull image on it. No injuries were sustained and the investigation continues.
---
AST #AK16053458 Armed Home Invasion/Felony Assault/Attempted Murder
July 21, 2016
On Tuesday 7/21/16 at approximately 1:16 AM, Alaska State Troopers responded to a report of a home invasion on Plumley Road in Palmer. Investigation revealed two people who were unknown to the homeowner entered the residence through a window. When the homeowner confronted the assailant with a firearm, an assailant shot the homeowner in the arm. Both suspects fled the residence on foot. WPD responded with a K9 to assist with tracking the suspects but they were not located. The homeowner was transported to Mat-Su Regional Medical Center for treatment of his injuries. One other person was in the home at the time of the break in but was not injured. Palmer and Anchorage ABI responded. Investigation is ongoing. The names of the homeowners are not being released at this time due to the circumstances surrounding the investigation.
---
AST #AK15051701 Death Investigation
July 08, 2016
*6/20/17 ARREST MADE BY THE ALASKA STATE TROOPERS*
On 7/3/15, the Alaska State Troopers received a report of a man and a woman missing from a campsite located near mile 79 of the Denali Highway. Initial responding troopers found evidence suggesting an altercation involving gunfire associated with their vehicle and camper trailer. An extensive search of the area was initiated involving AST aircraft and Wilderness Search and Rescue volunteers.
On 7/5/15 at approximately 4:00 PM a dilapidated trailer was discovered near an abandoned mining camp and both missing individuals were found deceased inside. The missing couple was later identified as Lynn Butler, 42, of Wasilla, and Richard Casler, 62, of Wasilla.
Foul play is suspected, and the investigation is on-going. Members of the public who were in the vicinity of the Denali Highway between 7/2/15 to 7/4/15, who may have made video recordings or taken photographs are encouraged to contact the Alaska Bureau of Investigation at (907) 269-5611.
---
AST AK#16037845 Theft of Caterpillar Skid Steer Model 226B
June 03, 2016
****RECOVERED 7-18-16****
On Wednesday, 5/25/16 at approximately 4:00 PM, the Alaska State Troopers in Wasilla received a report of a vehicle theft from a property on Museum Drive. Investigation revealed a Caterpillar Skid Steer Model 226B was stolen from the property between the dates of Sunday 5/22 and Tuesday 5/24. Estimate loss is $35,000.
Similar Picture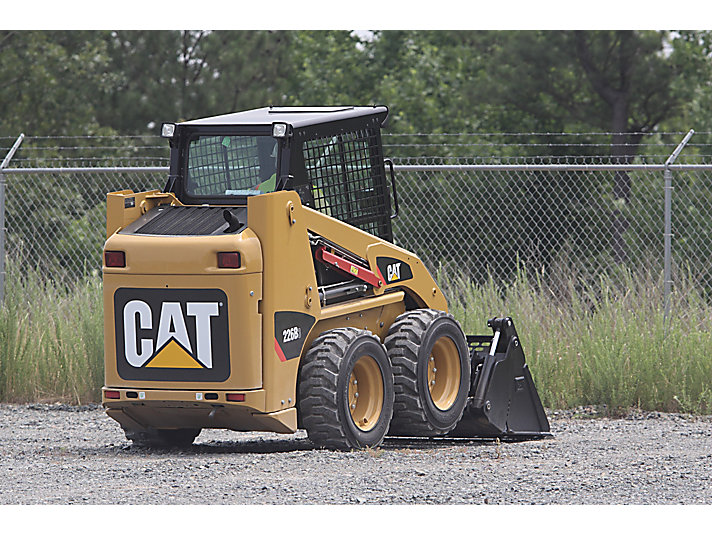 ---
AST #AK16030041 Chickaloon Burglary
May 19, 2016
On Wednesday, 4/27/16, Alaska State Troopers received a report of a burglary at a residence on N. Maggie Lane in Chickaloon. Investigation revealed that unknown person(s) kicked in the front door, entered the residence and stole numerous firearms as well as several electronic devices and tools valued at over $10,000. A suspect vehicle is described as a light blue SUV. The investigation continues.
---